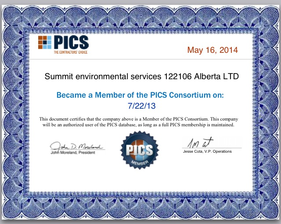 PICS ensures that Summit follows each of the requirements below:
DocuGuard- DocuGUARD's contractor prequalification program validates that regulatory forms and statistics are submitted properly and accurately
InsureGUARD is the assurance that you are protected in the event of an incident. With InsureGUARD, PICS' Insurance Specialists collect and review each certificate with absolute attention to detail. PICS verifies the contractor's insurance coverage, to be certain that each certificate meets your requirements and limits your liability.
AuditGUARD includes:

Manual Audit
Implementation audit
Drug & Alcohol Audit
Background check Audit
Field Audit

Employee GUARD: Employee background screening.